Cleaner than the air you breathe
Cleaner than the air you breathe
Diesel Engines have never been cleaner
The past 3 decades of constant push for tighter emission standards are paying off! It has driven a significant reduction of harmful substances in the exhaust of diesel vehicles all over the world, to a level where modern diesel engines compliant with Euro VI, EPA10, or similar emits over 95% less Particulate Mass, 99% less quantity of Ultra-fine Particles (PN) and 95% less NOx.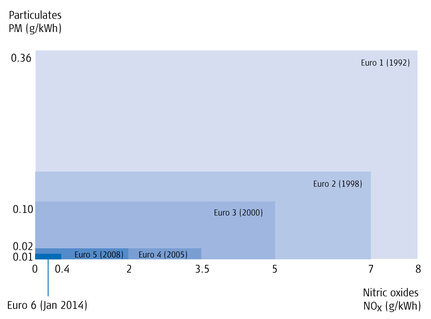 Dinex Emission Mythbusters
Emission standards are often criticized for not giving a truthful impression of the actual emissions of vehicles, but this is often rooted in misunderstandings and prejudice, as we will explain in this video.
Trucks are cleaning the air
Particulate matter is all around us, and it comes from numerous sources, with domestic and commercial combustion being by far the biggest contributor. A closed trap Diesel Particulate Filter, like those installed in all Euro VI and EPA 04 (and similar) compliant vehicles, is trapping even more particles from the exhaust than the engine produces itself. Why? Because the intake air into the engine is polluted already, and the filters are so efficient.
Check out this short article, and learn how even big Diesel-driven Heavy-duty trucks are cleaning the air while operating:

Euro VI: Wait till you see the full effect​​​​​​​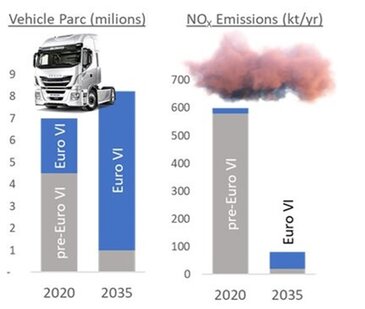 In 2020 – 6 years after the introduction of Euro VI – heavy commercial vehicles emitted nearly 600.000 tons of NOX. But as older vehicles are being phased out and replaced with Euro VI compliant ones, that figure will drop by nearly 90% because of the much improved SCR systems.
Particulate emissions with PM2.5 (ultra-fine particles) were also addressed with Euro VI, as DPFs became nearly mandatory. Calculations show that for every pre-Euro VI vehicle replaced by a newer one, a 10-35 times reduction in Particulate emissions are to be expected. The fastest way to cleaner air? Incentivize scrappage or retrofitting of old vehicles.
Read more in this article: